October 21, 2011 in Uncategorized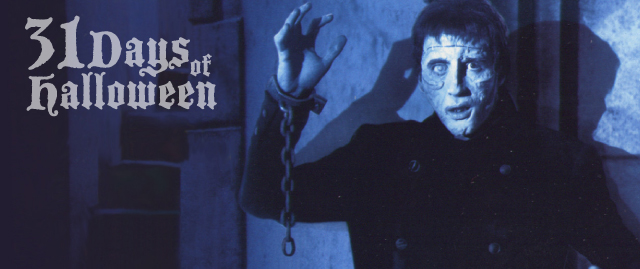 31 Days of Halloween
The Curse of Frankenstein (1957)
Directed by: Terence Fisher
Written by: Jimmy Sangster
Starring: Peter Cushing, Hazel Court and Robert Urquhart
The story of FRANKENSTEIN seems to have been done to death. Since the original masterpiece in 1931 based on Mary Shelley's novel, there have been countless reiterations of Frankenstein and none all that interesting.
But, in 1957 Hammer Films brought us a re-imagining of the Frankenstein story starring the great Peter Cushing as Baron Frankenstein. Peter Cushing is awesome. He's the perfect choice for the brilliant, intelligent and slightly insane doctor.
THE CURSE OF FRANKENSTEIN (and it's sequel) operate as mostly set-up for the thrilling final act. With lesser films, the set-up can be a slog. However, here it is brilliant, intelligent and captivating. The acting is top notch and characters are well developed. I really was blown away at how much I loved this film.
The ending is predictable if you've seen any other Frankenstein film, but the execution is very enjoyable and Christopher Lee makes a great Creature.
I had so much fun with this film, I immediately wanted to watch the direct sequel THE REVENGE OF FRANKENSTEIN.
Plot





|| Scares





|| Entertainment





Overall Rating Overall Rating: