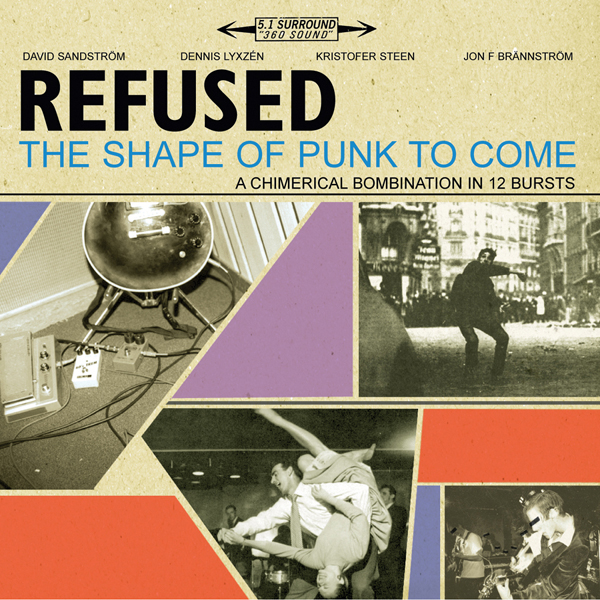 One of the best albums in over a decade will finally get the deluxe treatment it deserves.  Refused unleashed the album The Shape of Punk to Come in 1998 and it changed the landscape of hardcore and punk for the better. (That is until bands like My Chemical Romance and Hot Topic ruined it again.)
Listening to The Shape of Punk to Come over 10 years later, it still seems ahead of it's time.  For fans like myself, June 8th can't come soon enough.  Epitaph will be releasing the 3 disc set.  It will include the original album, a previously unreleased live album recorded in Sweden in 1998, and a DVD of the breakup documentary Refused Are Fucking Dead.
Shortly after Refused released The Shape of Punk to Come the band broke up.  Frontman Dennis Lyxzén later formed the (International) Noise Conspiracy.
The Shape of Punk to Come (Deluxe Edition) Track Listing:
CD1:
01 Worms of the Senses / Faculties of the Skull
02 Liberation Frequency
03 The Deadly Rhythm
04 Summerholidays Vs. Punkroutine
05 Bruitist Pome #5
06 New Noise
07 The Refused Party Program
08 Protest Song '68
09 Refused Are Fucking Dead
10 The Shape of Punk to Come
11 Tannhäuser / Derivè
12 The Apollo Programme Was a Hoax
CD2 (live):
01 The Shape of Punk to Come
02 Refused Party Program
03 Circle Pit
04 Worms of the Senses / Faculties of the Skull
05 Hook, Line and Sinker
06 Summerholidays Vs. Punkroutine
07 Rather Be Dead
08 Burn It
09 The Deadly Rhythm
10 Coup d'Etat
11 New Noise
12 Tannhäuser
[Source: Pitchfork]