June 18, 2009 in Pictures, Trailers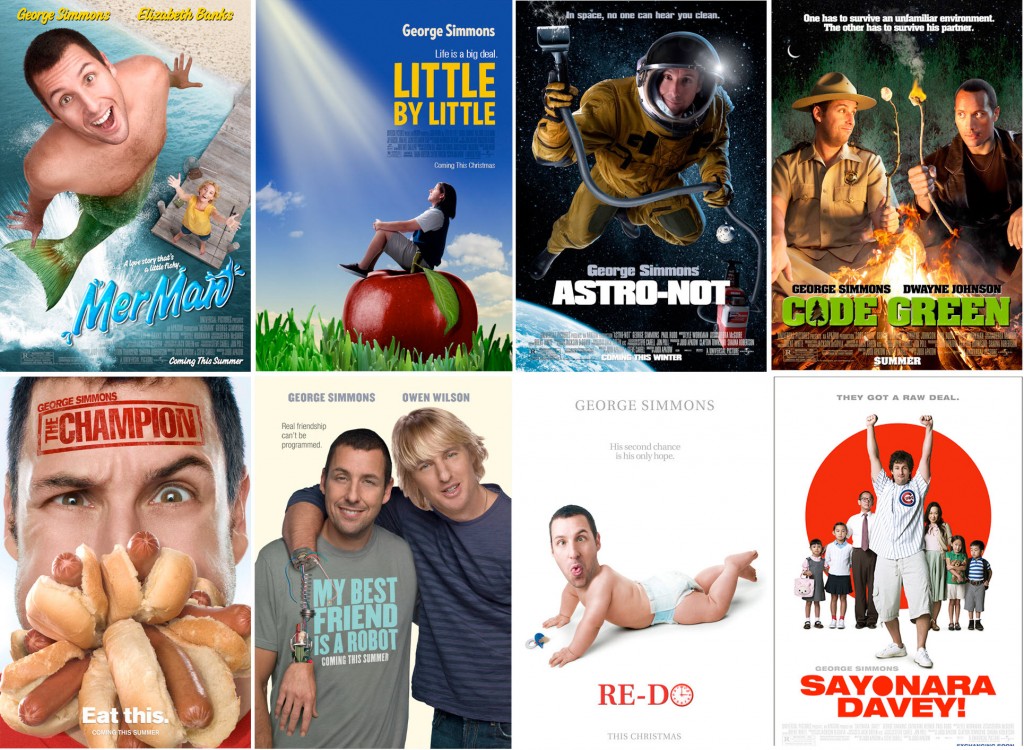 In Judd Apatow's comedy Funny People, Adam Sandler plays a popular comedian named George Simmons.  He's a successful comedian turned actor who (like Sandler himself) has appeared in many crappy films.  After the jump, see the posters for these fake posters, also view clips and plot outlines.
Funny People will be in Theaters July 31, 2009.
The Posters:
Fake Film Plot Synopis' and Clips:
MerMan (1998) When Emma (Elizabeth Banks), a spunky marine biologist, discovers a real life Merman, she promises to keep his secret if he'll help get her a research grant. But when a jealous colleague suspects something's fishy, its the Merman who has to save Emma's tail.
Code Green (2003) A park ranger teams up with a city-slicker detective (Dwayne Johnson) to catch an escaped convict in the Pacific Northwest. One has to survive the elements. The other has to survive his partner.
Dog's Best Friend (2003) After his partner is murdered in a botched heist, a detective is teamed with the top dog on the force – a canine agent named Slash. Together, they must infiltrate the gang that took his partner's life before it's too late…
Astro-Not (2004) When a slacker janitor at NASA is accidentally launched into space, he is forced to rely on his wits – and he soon learns that in space, no one can hear you clean.
My Best Friend is a Robot (2004) John and Ted (Owen Wilson) are best friends — they like the same food, they like the same movies, and they like the same sports. But John didn't meet Ted, he bought him. Designed to be his compatible buddy, John got more than he bargained for with this feisty robot when Ted teaches John that real friendship can't be programmed.
Sayonara Davey! (2007) Davey refuses to grow up. He takes a job at his alma mater just so he can party, but when a paperwork mix up sends him to Japan as a foreign exchange student, his host family spoils all his fun. Mr. Ashito is determined to turn Davey around but is surprised when Davey teaches them a few lessons himself.
Little By Little (2007) A busy nuclear physicist's life is changed when the radiation he works with begins to shrink him one inch every day. Forced to face his future, he begins to discover that it's the little things in life that really count.
Re-Do (2008) Craig, a workaholic lawyer, never made time for his relationships. Alone and depressed on his 40th birthday, he wonders about the life he could have lead. But be careful what you wish for… you might just find yourself in diapers! When a wizard gives Craig a second chance at his youth, he discovers that sometimes it takes becoming a baby to learn how to be a man. Co-starring Justin Long.
Head over to GeorgeSimmons.com to read more about George's career.
[Source: Slashfilm]