October 26, 2011 in Uncategorized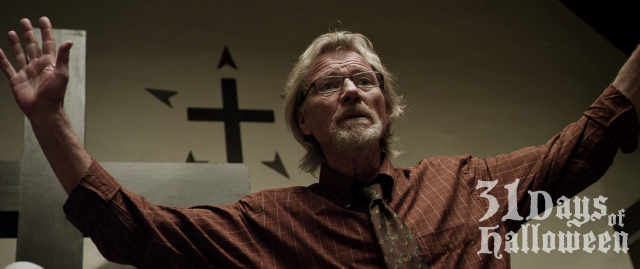 31 Days of Halloween
Red State (2011)
Directed by: Kevin Smith
Written by: Kevin Smith
Starring: Michael Parks, Melissa Leo and John Goodman
Religion can be scary. In that sense, Kevin Smith was right about classifying RED STATE as a Horror film. In reality, I'm not sure you can define RED STATE by any set genre. It's a mash up of psychological horror and action in a unconventional 3 act format.
1st Act: Horney Teenagers Vs. The Religious Nutjobs
2nd Act: The Religious Nutjobs
3rd Act: ATF Vs. The Religious Nutjobs
I really enjoyed this structure and didn't mind it at all. Each act was well acted and interesting, even shocking. Tying all 3 acts together is an amazing performance by Michael Parks as Albin Cooper. He is phenomenal. I would love to see a spin-off film specifically about Albin Cooper. What a great character.
Sure, RED STATE is uneven in tone and there are a couple clunker scenes. But, as a whole, RED STATE is a brave film and a surprising turn by director Kevin Smith.
Plot





|| Scares





|| Entertainment





Overall Rating Overall Rating: