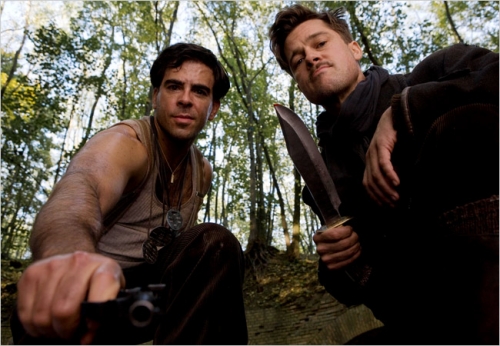 Rating:





Directed By: Quentin Tarantino
Starring: Brad Pitt, Diane Kruger, Mélanie Laurent, Christoph Waltz
Plot Synopsis:
Inglourious Basterds begins in German-occupied France, where Shosanna Dreyfus (Mélanie Laurent) witnesses the execution of her family at the hand of Nazi Colonel Hans Landa (Christoph Waltz). Shosanna narrowly escapes and flees to Paris, where she forges a new identity as the owner and operator of a cinema.
Elsewhere in Europe, Lieutenant Aldo Raine (Brad Pitt) organizes a group of Jewish soldiers to engage in targeted acts of retribution. Known to their enemy as "The Basterds," Raine's squad joins German actress and undercover agent Bridget Von Hammersmark (Diane Kruger) on a mission to take down the leaders of The Third Reich. Fates converge under a cinema marquee, where Shosanna is poised to carry out a revenge plan of her own… [TrailerAddict]
Review:
Quentin Tarantino's films are event films.  Because he isn't a "hired gun" director, Tarantino gets to take his time and make the movies he's interested in making.  He's one of the few directors who works this way, and the only current director with his own style (granted his style is a mish mash of influence) and his own stamp on a film.  You know when you're watching a Quentin Tarantino movie.  With only 5 previous films under his belt, Inglourious Basterds is Tarantino's 6th film (if you count the Kill Bill films as one film), his first period film, his first war film, and his finest film since Pulp Fiction.