Movie Review: Inglourious Basterds
Movie Review: Inglourious Basterds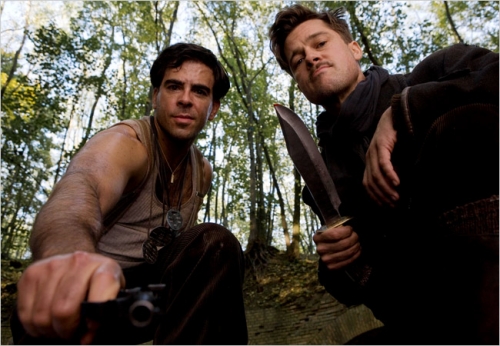 Rating:





Directed By: Quentin Tarantino
Starring: Brad Pitt, Diane Kruger, Mélanie Laurent, Christoph Waltz
Plot Synopsis:
Inglourious Basterds begins in German-occupied France, where Shosanna Dreyfus (Mélanie Laurent) witnesses the execution of her family at the hand of Nazi Colonel Hans Landa (Christoph Waltz). Shosanna narrowly escapes and flees to Paris, where she forges a new identity as the owner and operator of a cinema.
Elsewhere in Europe, Lieutenant Aldo Raine (Brad Pitt) organizes a group of Jewish soldiers to engage in targeted acts of retribution. Known to their enemy as "The Basterds," Raine's squad joins German actress and undercover agent Bridget Von Hammersmark (Diane Kruger) on a mission to take down the leaders of The Third Reich. Fates converge under a cinema marquee, where Shosanna is poised to carry out a revenge plan of her own… [TrailerAddict]
Review:
Quentin Tarantino's films are event films.  Because he isn't a "hired gun" director, Tarantino gets to take his time and make the movies he's interested in making.  He's one of the few directors who works this way, and the only current director with his own style (granted his style is a mish mash of influence) and his own stamp on a film.  You know when you're watching a Quentin Tarantino movie.  With only 5 previous films under his belt, Inglourious Basterds is Tarantino's 6th film (if you count the Kill Bill films as one film), his first period film, his first war film, and his finest film since Pulp Fiction.
The title of the film is a bit misleading.  It's not 100% about the Nazi killing troop who call themselves The Basterds (yes, the misspelling is on purpose), Inglourious Basterds centers around 2 main characters with one goal in common: end World War II by killing all the leaders of the Nazi party who will be attending a premiere of a German Propaganda film called Nation's Pride in Nazi populated France.
Inglourious Basterds is Tarantino's most focused film yet.  It's also his most outrageous.  He plays with our knowledge of real WWII events and doesn't restrict himself to real historic accounts.  This is very much an "Alternative Reality" film and it's best if you don't even think about history on this one.  Because of this, Tarantino is able to craft a movie that is fairly unpredictable and extremely fun to watch.
If you go into Inglourious Basterds thinking this is a Brad Pitt let film, you'll be disappointed.  Brad Pitt plays more of a supporting role and the weight and main plot of the film is carried by two relatively unknown actors.  First, by French actress Mélanie Laurent who plays Shosanna Dreyfus, a Jewish woman living in France after her family is murdered by Nazis.  Then, by German actor Christoph Waltz as the likable villain Col. Hans Landa aka "The Jew Hunter."
Mélanie Laurent is captivating as a Jewish theater owner living in France.  Her family was murdered by Nazis and she escaped, living under the radar in Paris after changing her name.  She's beautiful, strong willed and motivated in her revenge for what the Nazis did to her family.  I totally believed her character and enjoyed following her story.  Christoph Waltz steals every scene he has in this film.  Even the scenes he shares with Brad Pitt.  He plays Col. Hans Landa, an ex-detective now working for the Nazi part dubbed the "Jew Hunter" for his ability to expose Jews' hiding places across Europe.  Waltz chews the scenery, but isn't overbearing.  His character is both frightening and likable, it's a weird balance that can be credited to Waltz's charisma on screen.
All the other actors are great to watch.  Tarantino has provided a laundry list of actors to fill in the supporting roles and guest appearances.  One of my favorite things about Tarantino movies are the casting choices he makes.  Everyone here does their part well and doesn't detract from the story he's trying to tell.
One of the biggest criticisms of Quentin Tarantino's films is use of dialogue.  While dialog is praised in most all his films, the criticism is sometimes he over-uses it and it sometimes feels self-indulgent.  I think Death Proof is the best example of this.  Inglourious Basterds is Tarantino at his best with dialogue.  Every word, phrase and sentence furthers the story.  None of it is dialogue for the sake of dialogue.  The other brave choice Tarantino made was to not shy away from different languages.  In fact, Inglourious Basterds can qualify for a foreign film with the amount of subtitles.  This isn't a bad thing, in fact I think it helps with the character of the film and makes for some nice and subtle dialogue moments.
Inglourious Basterds is a film that one could write essays about.  It is a multi-layered alternative historical fiction that will benefit from multiple viewings.  This is Quentin Tarantino's best and most enjoyable film since Pulp Fiction.  It also shows Tarantino growing as a film  maker and does a great job reigning himself in.  While Inglourious Basterds is 100% a Quentin Tarantino film with his musical queues and use of freeze frames, titles and flashbacks.  It is also his most mature, tightly woven and fun movie to date.  I had a blast with this film and can't wait to re-visit it.