Movie Review: All the Boys Love Mandy Lane
Movie Review: All the Boys Love Mandy Lane
Rating:





Directed By: Jonathan Levine
Starring: Amber Heard, Whitney Able, Michael Welch, Anson Mount, Aaron Himelstein
Plot:
Mandy Lane (Amber Heard) is an unattainable object of adolescent lust for all the boys in her highs school.  Invited on a weeked away to a remote ranch, shy Mandy sees it as a chance to cement some newly formed friendships.  The boys see it as a chance to finally get with Mandy.  As night falls, joints are rolled, kegs are drunk and pills are popped, with Mandy maintaining a polite distance from all the debauchery.  She things the drunken "come-ons" will be the worst of it, but she is horrifyingly mistaken.  As events take a turn for the worse, it becomes clear that a secret admirer is harbouring some terrifying ulterior motives.
Review:
Originally released in 2006 at the Toronto Film Festival, winner of the Audience Award at Sundance Film Festival in 2008 and managed horribly by The Weinstein Company and sold to Senator Entertainment, All the Boys Love Mandy Lane is STILL unavailable to American Audiences.  It's a shame, because this small and clever slasher flick starring Amber Heard deserves to be seen.  Luckily, Optimum Releasing has the distribution rights in the UK and have offered us a Region Free Blu-Ray release of the film.  All the Boys Love Mandy Lane is a clever, small budget slasher with some great performances in it.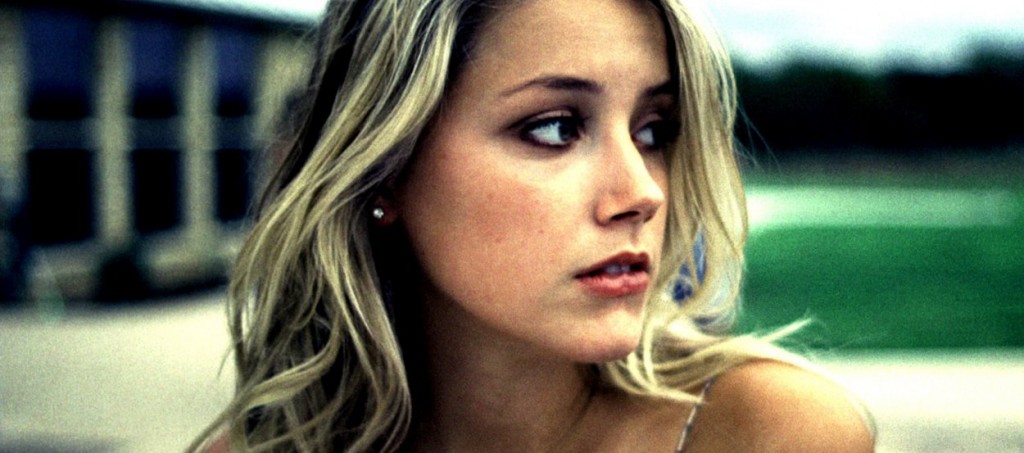 Jonathan Levine (The Wackness) knows what he's giving us here.  All the Boys Love Mandy Lane isn't striving to be more than a fresh take on the Teen Slasher flick.  I've heard it describes (generically on the box) as "The OC meets Friday the 13th." I'd have to say that All the Boys Love Mandy Lane is a modern teen slasher that doesn't try to wink at the audience or try to be over the top, nor is it going out of it's way to offer up cheap scares.  The characters are believable and everything is played straight and realistic.  These aren't "Hollywood" teenagers, all the characters seem 100% rooted in reality and this really helps suck in the viewer.
Amber Heard is the star of the film and takes up about 80% of the screen time.  I think this was her largest role at the time it was filmed.  She is most known for her roles in Pineapple Express and The Informers, but none of those movies feature her on screen as much as All the Boys Love Mandy Lane.  Amber Heard brings a quiet shyness to Mandy Lane.  She is beautiful, yet hates being the center of attention and seems extremely self conscious.  The underlying commentary of her character is what makes her so interesting.  All the boys are trying to "get with her" yet she's unaware of what her beauty is bringing out of the guys, and also unaware of the harm they will put themselves in just to be with her.  All the other characters are serviceable to the story.  Each a kind of stereotype, from the jock to the snarky stoner, but still believable.
The cinematography in All the Boys Love Mandy Lane has kind of a washed out look.  In HD, it looks pretty good but the colors don't pop.  I believe this was a stylistic choice, and for a horror flick, it works.  I really like some of the camera techniques and angles used in some of the scenes.  You get a sense there was some artsy experimentation on Jonathan Levine's part and it never gets pretentious.
All the Boys Love Mandy Lane is a fresh and original slasher flick.  It knows what it is, doesn't talk down to the audience and is a thrilling and fun ride.  Amber Heard shows that she can carry a film, it's a shame no one in the U. S. can see this easily.  If you can get your hands on this, you'll enjoy the ride.  It's nice to see that original horror can still captivate us in the age of pointless remakes and sequels.
Buy the REGION FREE UK from Amazon.com or Amazon UK.
Rated:
(for strong disturbing violence, pervasive drug and alcohol use, sexuality/nudity and language).