Music Review – The End Of America, "Shakey"
Music Review – The End Of America, "Shakey"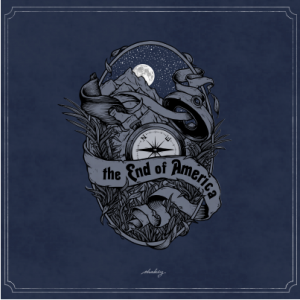 Artist: The End Of America
Album: Shakey
Label: Self Released
RIYL: Band Of Horses, Wilco
Podcast: Play in new window | Download

When I heard their debut album Steep Bay I knew the band The End Of America was something special. That album was recorded in 2010 in upstate New York at an isolated cabin. Founding members Brendon Thomas, James Downes and Trevor Leonard recorded the album live using only a two track, battery powered recorder. What they recorded was an impeccable achievement and still one of my all time favorite albums.
Fast forward to 2012, the band is still focused on organic songwriting and recording. The album title "Shakey" is a homage to Neil Young, who recorded most his albums live, with minimal rehearsal. Following in his footsteps, The End Of America did the same with this album. Over 7 days the recorded live, to tape with minimal rehearsal and as few takes as possible. The result is yet another astounding recording from the band.
This process gives an immediacy to the songs, beautiful imperfection and a snapshot of a true creativity. While the songs don't grab me as much as their debut, Shakey is still a stunning achievement. The album consists of 5 full length songs broken up with an intro and interlude. Each song has it's own personality and before you know it the album is over. Which brings me to my main complaint of both albums…when it's over I wish there was more!
The End Of America are a true example of artistry in an industry that has very few pioneers left. The are proving that creativity can go a long way and, when used correctly, analog recording is far from being extinct. The band is mulling over releasing their music on vinyl and that seems to be the only way I'd want to experience their music. Until then, both albums from The End Of America are top notch, inexpensive and well worth your time and money.
Rating: