Music Review – Our Lost Infantry, "The New Art History"
Music Review – Our Lost Infantry, "The New Art History"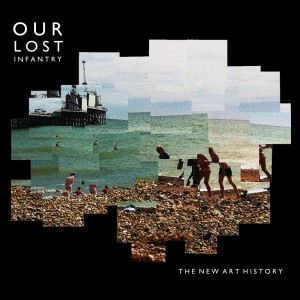 Artist: Our Lost Infantry
Album: The New Art History
Label: Deep Elm Records
RIYL: Brand New, Arcade Fire, Explosions In The Sky, Grammatics, She Bears
Podcast: Play in new window | Download
The New Art History by Our Lost Infantry is a 36 minute musical movement in 9 parts. Still with me? Most bands who try this sort of approach to an album usually come across as pretentious assholes. Anyone a fan of Mars Volta? If you are, hear me out before you string me up. These rock-opera type albums usually come across as forced, silly and pretentious to the average music listener but embraced by other musicians. What sets Our Lost Infantry apart is the seamless blend of artistic integrity with infectious hooks, soaring vocal melodies and rousing harmonies.
Hailing from Aldershot, England the band locked themselves away for about six months writing this album. Emerging with a self-produced masterpiece, the band was signed to Deep Elm Records therefore unleashing The New Art History to discerning music aficionados worldwide. It's a remarkable debut.
During it's brisk 36 minutes, The New Art History packs a punch and is surprisingly epic. Even though it is technically one 36 minute song, Our Lost Infantry has crafted 9 memorable movements. All related, yet all original. It's a feat that not many bands can pull off successfully. The New Art History is one work of art that can be enjoyed in pieces, but also as a whole. The album is neither pretentious nor forgettable and is more sweeping and epic than one would think.
Our Lost Infantry is Thom Ashworth on vocals, Joe Ashworth on bass, Matt Phelps on keys and Michael Parkin on drums. All contribute to the vocals during choruses and harmonies. The musicianship and vocals are so impeccable that I have added Our Lost Infantry to my "Must See Live" list, just to see if they can pull all this off live. If they can, I hope this band is filling arenas with their sounds in about 10 years.
Our Lost Infantry has created one of the finest releases of 2012. It's an album that can be embraced by the elite audiophiles to the average music lover. From start to finish, The New Art History is an epic journey wrapped in a brief 36 minutes. Each piece of the album can be enjoyed separately, however, I'd suggest starting at the beginning and let the album grab hold and envelope you.
Rating: