October 2, 2009 in geekArticle!
*This article contains spoilers for the Saw series.  You've been warned.
Successful long running Horror franchises can be counted on one hand. Halloween, Friday the 13th, Nightmare on Elm Street and now Saw have made it past 5 installments.  Normally franchises don't get past 3 and remain successful.  For example: Superman, X-men, and Alien all miserably failed by the third film.  However, for some reason the Horror genre has had success despite horrible sequels.  3 of the 4 listed Horror franchises were created back in the 80s, and a new franchise hadn't emerged in over 20 years.  So, why has Saw remained so successful? Especially, since it's notorious killer died in the third installment?
Let's examine the films:
Why it works: Saw works in it's simplicity.  2 people locked in 1 room with no recollection how they got there with 1 cop trying to put together the puzzle pieces and find the Jigsaw Killer.  When the movie came out, all I heard was how brutal and twisted the movie was.  Actually, there is little gore actually shown on screen.   Most all the gruesome acts of the movie were implied.  In fact, Saw can be best compared with David Fincher's Seven regarding the gore factor.  (Although not as good of a film as Seven, of course).  The fact that Saw was perceived as more disgusting than it actually was shows me that the film makers did their job in making a memorable Horror flick.  Plus, the "He was in the room the whole time, pretending to be dead!!!" revelation at the end of the movie was a fun discussion to have at the time.
What didn't work: The "He was in the room the whole time, pretending to be dead!!!" revelation.  I know, I know, it was explained in a later sequel.  Still, at the time it was both a "Holy Shit!!!" moment followed by a "Wait…." moment.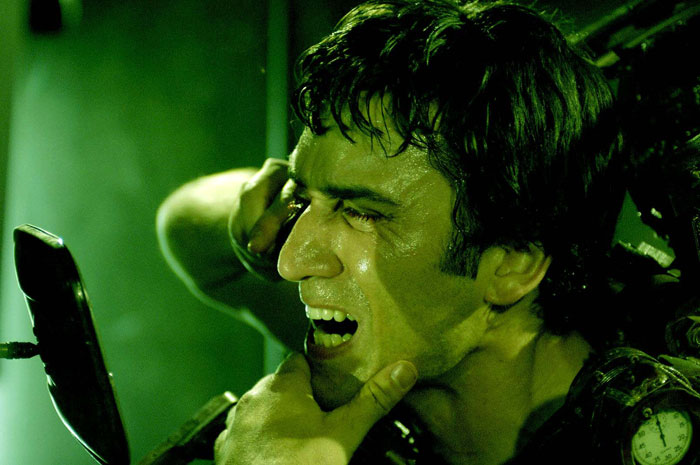 Why it works: Saw II does the inevitable "More people, more death!" approach to a Horror sequel.  The opening scene is insanely memorable and disturbing.  Plus, the dynamic of a handful of people stuck in a House 'O Traps makes for some interesting drama.  Also, I do like the Crooked Detective approach with Donnie Wahlberg's character.  We also get to see Tobin Bell's Jigsaw as an actual character in Saw II, and the banter between him and Donnie Walburg is great.
What didn't work: The original Saw worked because of it's simplicity.  Saw II seems a bit over crowded and the reveal of Jigsaw's helper isn't anything special.  But the dynamic of Tobin Bell and Donnie Wahlberg make up for Saw II's flaws.
Why it works: Saw III is actually more satisfying than Saw II.  This is the end of, what I call, The Jigsaw Trilogy and can be looked at as a final chapter of the most compelling story arch of Saw.  I love the fact that Jigsaw creates a "game" with a doctor in order to save his own life.  Also, the journey of following one man through Jigsaw's basement of potential victims is pretty compelling, as he's the missing piece to save these people.  The "torture" set pieces in Saw III are both terrifying, yet interesting to look at.  This is a great place to stop if you're not interested in following the Saw series an further, and is the most satisfying endings to an interesting and original Horror story.
What didn't work: I actually have less to grumble about in Saw III than the previous film.  However, the intricacy of the traps in this film makes it hard to suspend belief during certain scenes.  It seems like a few more cracks in logic appear in this one.
Why it works: Jigsaw is dead.  For sure, not if ands or buts.  We're treated to a pretty gruesome autopsy scene at the beginning of the flick where organs are taken out.  So, there's not denying the fact that the dude is dead.  What I like about Saw IV is how they juggle the fact that our main villain is stone cold dead, yet there's still plenty of story to tell.  I was surprised how everything tied the first 3 movies together, and there's a level of detail here that past Horror Franchises fail to notice.
What didn't work: Flashbacks.  I was confused at a couple points, but figured it all out by the end.
Why it works: OK, Saw V is where the series loses some steam.  But, there still is plenty to like.  The opening scene is pretty incredible and had me wincing.  This is actually less of a gore-fest than the previous films.  I'd slate it between I and II on the gore/trap level.  Saw V is more of a police procedural than any of the previous films.  Some found it boring and called the film out for being more filler than substance.  They may be right, but I still think the level of detail showcased with trying to stretch this series out past 5 installments has to be appreciated.
What didn't work: More flashbacks (also a flashback within a flashback).  But, how else are you going to fit Tobin Bell in? Saw V is probably the slowest moving of the series.  It spends too much time trying to fill in gaps of the previous films, and not enough time establishing the actual story for Saw V.  You can tell the series is running on fumes by now.
Final Thoughts
I trashed the Saw series for quite some time; unfairly, since I hadn't seen the series past II.  The attention to detail for each of the Saw sequels needs to be applauded.  Friday the 13th has probably the worst continuity of any Horror franchise, while Nightmare on Elm Street got goofier and goofier.  At least Saw's tone remains the same and expands on each of the previous movies.
Saw isn't high cinema.  Who are we kidding? However, it's easy to see why it has gained a following and has shown to be extremely profitable during the Halloween season.  Now, if only we can get some more original Horror films out at Halloween time.  No one seems to want to go up against Saw.  But, with it quickly running out of steam, hopefully Saw VI gives closure to the series, so more original Horror graces our cinemas next Halloween.